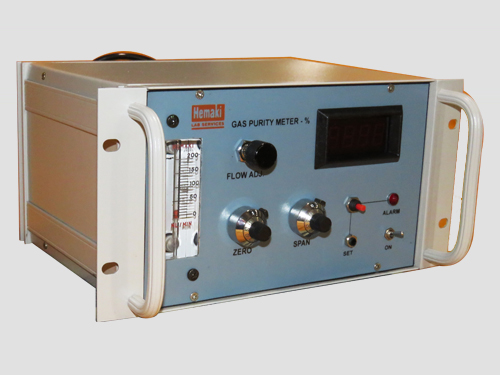 The hydrogen purity meter is an electronic device to analyze the purity of Hydrogen gas. It is equipped with 3 ½ inch LED digital display which shows all the calculated readings. It requires calibration gas near sample gas for the readings to be calculated. Additionally, it has imported TCD filament which aids in accurate sensing. Further we can also customize this meter as per the specifications of our clients.
Technical Specifications :
Online mains Operated for Mixture of two Gases (Non-Corrosive)
Range: 0 to 100% Resolution 0.1% (For H2. /N2 ¿ H2 in N2) - (balance gas N2)
Calibration gas required near sample gas
TCD Filament (imported) Diffusion type
One needle valve and Rota meter for Gas Flow Control
Inlet / Outlet provided
Features of the Electronic Control Panel :
Digital Display 3 ½ LED with 0.1% resolution.
230 Volt AC for Operation
Zero & Span (or two points) control for calibration to get direct read out of H2 Purity
Adjustable single Alarm (Potential free Relay Contact)
4 to 20 mA online operationl
Cabinet table mount or panel mount (Panel Cutout: 235 x 138mm)
Calibration: By sample reference selector valve for calibration Purpose. To be calibrated with standard calibration gas.