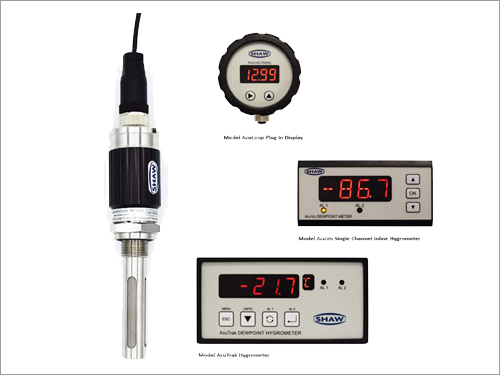 Features
2 Wire, 24V, 4-20mA Dewpoint Transmitter
Various Ranges: Overall Range -100ºC to+20ºC Dewpoint
Output configurable in °C Dewpoint, F Dewpoint, ppm(v), g/m3 and lbs/MMSCF
Accuracy ±2ºC Dewpoint
Weatherproof Rating IP66 - NEMA4
Linear 4-20 mA output signal
Weighs only 175 g
Autocal :
Field calibration / Span check facility. Activated and operated via potentiometer on the Transmitter body. Locked in normal operating mode to avoid tamper.
Factory Calibration:Supplied with Certificate of Calibration traceable to National Physics Laboratory (NPL)
Accuracy: ± 2&degC dew point (NPL traceable -90&degC to +20&degC)
Response Times :
Wet to Dry:-20°C to -60°C - less than 120 secs.
Dry to Wet:-120°C to -20°C - less than 20 secs.
Sample Flow Rate
Per minute. Max: 25 litres/min.
Flow independent but ideally 2 to 5 litres
Cable Terminations
EN 175301 connector at the Transmitter and other end
IP66 (NEMA4X) rated, size C, DIN